"The true shaman, the true naturalist, works to reconnect conscious human life with Nature and Spirit through totems and ritual".
Ted Andrews (Animal Speak 1999)

The Shaman or Earth Mother way is a conscious opening for the 'feminine body', through the 'earth, water and starry' realms.
Therefore opening the "etheric" doors of multi-dimensional bodies, birthing through the most conscious door of all, the physical!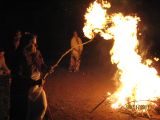 Sacred Fire Ceremony
Amamoor 4570 - Queensland - Australia

Celebrating consciously assists a greater understanding and gift in connecting to the subconscious stories 'beyond the beyond'!

Preparations, on all levels for a particular venue may include Sacred Circles and an added opportunity for participants to be part of the Teachings of the CrystaLoveLight Process.

The power of Sacred Ceremony is an experience which will include:
- activations of 'Sacred Sound Codes'
- crystals
- opening portals (etheric doorways)
- the shifting of vibrational frequencies
- the birthing of a new dimension of the I Am Body





"The Mother & Great Mother" are honoured as each soul births their I Am Gifts more fully as a profound opening of the 'heart, allows the spirit' to fully anchor with the Crystal Heart of The Mother, Gaia!

The group consciousness therefore assists the 'collective stories' held by many souls. Particular members within the group are able to assist the holding of the LoveLight vibration within various dimensions of their I Am Body, providing a unique opportunity for all to open their hearts and creating more abundance of LoveLight in 'health matter, relationships and career path or one's mission upon this earth'.